I had the opportunity to listen to a great webinar the other day over at Inbound Now with David Wells http://bit.ly/jowzxZ. The guest was Rand Fishkin. Rand's a founders at SEOmoz and an SEO sage. When Rand speaks, I listen.
Rand didn't disappoint. He described Google Plus 1 and the difference between the Facebook Like button. He threw out some interesting facts such as Google actually buys data from Facebook and Twitter. A powerful indication of how desperate they must be to develop their own social share button and indirectly their own related data. Google has a lot riding on + 1.
I quickly went over the Google and joined the + 1 "experiment." The product is only several weeks old and Google has put it in the proverbial sandbox at the moment. Right now, it's only available for search users provided they're logged into their Google account.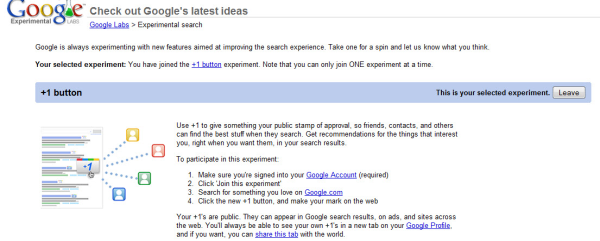 Plus 1 Is Better for End Users than FB Like Button. Once you've joined the "experiment" your search results are appended with a +1 button. The premise is that if you don't abuse the tool, it will derive better search results for the user over time. It will eventually integrate your friends' +1. For me, this is a huge distinction from Facebook's Like button. Google's +1 actually helps the user improve their search results. Whereas the FB Like button only notifies your friends that you like something. There's no actual benefit for the "Liker" beyond notifying your friends that you appreciate a piece of content.

Maybe I'm a bit selfish but I like that I'm getting something in return via the +1 button.
Click below for more helpful info from Optimize 3.0: