I stumbled across Screenr the other day when I was researching one of my competitor's back links. I clicked through and discovered a great screen capturing software free tool. The added benefit is that the account provides a pretty high value do-follow link. I've considered a screen capture video of my blog calculator to demonstrate that interactivity and explain with voiceover how it works. I thought I might have to invest in something like Camtasia (makers of Snag It) which is a great tool. But I've been putting that off with other priorities. However, as soon as I started playing around with Screenr I knew I was onto something pretty great.
I was able to accomplish accomplish objectives at once.
First, I created an account. Be sure to add a link to your site here. That's some meaningful link juice right there. Based on my SEO tools I can see that Screenr has an average link grade of 95 and a Page Authority of 81. Nothing to sneeze at.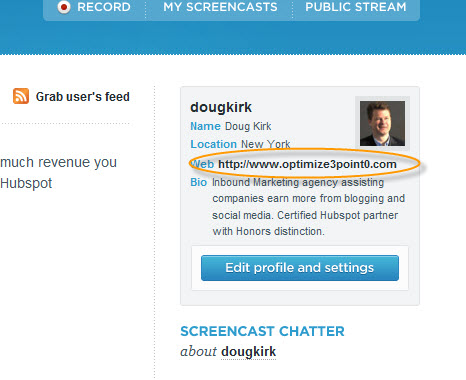 Next I hit the record button. This is what you see: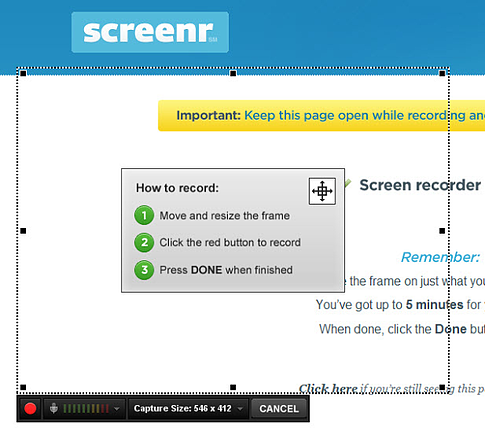 Now go to your website. You can adjust the size of the frame at any time. Once you got it where you want it, click the record button. Be ready to start speaking. There's a countdown and then you're live. You've got up to 5 minutes of recording. You can use this to create a video tour of your site, or a client's site. Lot's of uses and best of all it's free. I used it to show how my Blogging Valuation Calculator. It worked better than I imagined.
After embedding the video on my site I took advantage of the great sharing features. I connected my Twitter account and sent a Tweet out about the demo. Then I uploaded the video right to my YouTube account. With the right software you can download the video into your hard drive.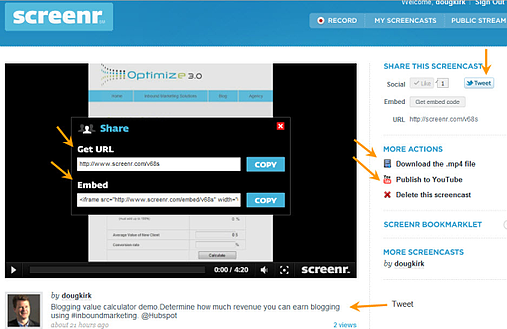 Can't say enough about this great screen capturing software free tool. Let me know if you've tried it.