5 Steps to Get Started in Social Media Marketing – A Primer for Your Business
Social media marketing is daunting. You need to commit time and effort that may not be readily available. Yet, social media is where potential customers are searching for information to assist their purchase decisions. Moreover, the search engines take into account the "social-ness" of your website when ranking pages.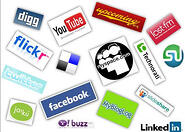 Here are five simple steps to get started:
1) Start a company blog.

2) Write about information your buyers consider when purchasing your product or service.
3) Build out social network profiles for your company (Facebook, Linkedin, Twitter)
4) Connect blog to your social media pages.

5) Blog frequently.
Obviuosly, there are a ton of steps to make that happen. In fact, each step has a detailed plan. Download this whitepaper and get all of the details to get started in social media marketing.