I had a very successful blog post related to internet marketing help. This was an interview with one of Hubspot's top rated users. I've wanted to follow up on that and recently came across the perfect opportunity: Larry Berezin, EVP www.newyorkparkingtickets.com. Larry came to Optimize 3.0 and downloaded a piece of content. Like a good inbound marketer, I reached out and we quickly realized we are Hubspot users. Larry's one of the very first in fact. Moreover, having grown up in NYC, Larry is something of a hero for the common man besieged by parking tickets in NYC. His site is the go-to resource if you've ever received a ticket here. For anyone looking for internet marketing help, Larrry's experience with Hubspot's online marketing platform is telling.
Optimize 3.0: How did you find Hubspot?
Larry Berezin: About 5 years ago I was looking on the web for internet marketing help and I came across Mike Volpe (Hubspot's CMO). I started following him online and reading all of the internet marketing info and assistance he was putting out. It made sense and I signed on with Hubspot.
Optimize 3.0: Why Hubspot?
Larry Berezin: When I joined newyorkparkingtickets.com we wanted to grow the business online and online seemed like the most likely place. I had become something of an expert in website design and building. When I saw how Hubspot put all of the website management and marketing under one roof – all in one place, it made perfect sense. I had to cobble these things together myself previously. Also, as a lawyer, I work on providing advice. The internet marketing philosophy espoused by Hubspotis to create great and helpful content and your clients they will come made perfect sense.
Optimize 3.0: What impact has Hubspot had on your business?
Larry Berezin: Hubspot changed my life! This tool provided a means to build a bridge between my law practice and the web. In the first years the platform really provided a means to become known. Today I have site visits from all over the world looking for my advice: China, Russia and Islamabad to name just a few. Shows how prevalent parking tickets are!!
When we first started we had something like 35 visits per day. Today we do easily 1,000 visits per day Monday to Fri and approximately 23,000 per month.
Optimize 3.0: What do you like least?
Larry Berezin: Well, right now I wish that the they had more template choices for landing pages. I typically go to Unbounce.com and use their landing page templates. This requires some manipulation on my part.
Optimize 3.0: What do you like most about Hubspot?
Larry Berezin: That's easy. Lead nurturing and List Segmentation. By using these tools I can identify my target buyer persona – the commercial business accounts. We bring people into the site and when they convert by downloading a piece of content on the site we can see who they are immediately and then customize how we interact with them going forward. This has been amazingly successful building out our commercial account business – our true bread and butter.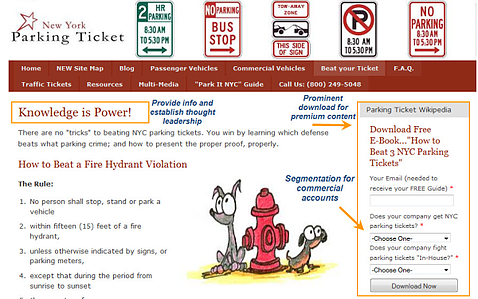 Optimize 3.0: Final thoughts you'd like to share?
Larry Berezin: If you're at a loss finding internet marketing help I strongly suggest looking into Hubspot. This is a powerful and affordable solution for small to medium businesses. I can imagine that most businesses are experts at what they do – but that is not enough. You need to give that information to interested buyers and develop a relationship with them in that manner first. From there, you're in a much easier place to turn them into clients. This is exactly what Hubspot allowed me to do with www.newyorkparkingtickets.com.